About Termites
Termites are scary when it comes to eating off wooden surfaces or wooden structures or cellulose-laden substances and hitherto ruining household or office items. It is more like the sheen and grandeur of the household item that is worse by termites than the wooden object itself. They deploy a sequential process to damage the objects. First, the top layer is targeted and gradually they reach deeper and deeper into the object. Termites leisurely conceal and earnestly eat wood and go unnoticed until the wood or timber associated stats showing symptoms of wearing off. At times, environment acts in favor of termites in doing their displeasing activities.Damp conditions like wet wood or dry wood in warm climates are the most conducive environments for termites to war foot on eating wood. In monetary terms, the damage caused by termites is multifold.  In Toto, they are a threat in a larger scale; henceforth they should be treated to wipe off ubiquitously in order to preserve furniture and other household objects. Our services at Advanced Pest Controls offer a variety of solutions and treatment mechanisms to curb this aching problem. Our Termite Pest control Services in Hyderabad provide healing services not only at domestic spaces but also at commercial and professional setups like factories, industries or office spaces.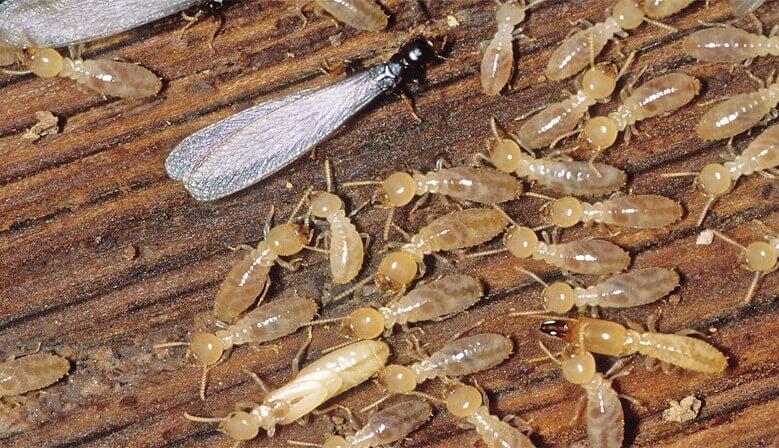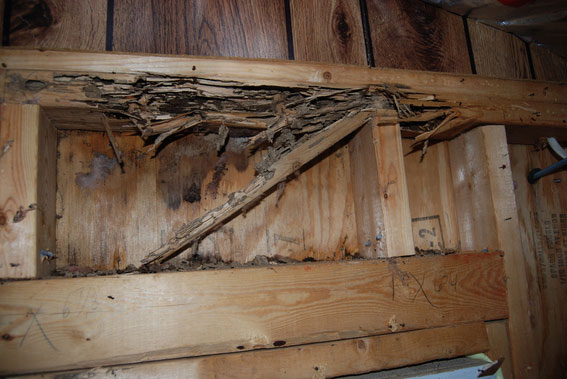 Effects of Termites
It is imperative to know what termites are and what their ill effects are before one decides to treat them mercilessly. Termites are never alone. They thrive in colonies and swim and sink together with other termites. This coexisting nature of termites snowballs into gigantic perseverance of wood eating. The effects of termites are many. However, they are not known to bite humans. So in this regard, humans are secure. However, they are the real culprits when it comes to SBS – Sick Building Syndrome – which is a resultant of fungi that termites carry. This Sick Building Syndrome results in fatigue, headache, rashes etc. This aspect of SBS should be taken care of by humans. Above all, their power to tear down a property to mere pieces of dead wood is disheartening.But the best thing is the chances of eliminating termites are not slim. Termites can be wiped off either by owners or novice people or professionals.However, there is controversy in air that anti termite treatment requires sprays and planting pesticides inside furrows which are a job to be done by professional and not others. The toxins involved in the making of these pesticides or sprays or highly dangerous to humans so employing a professional is the best way. Hiring a professional or a professional service like Advanced Pest Controls services in Hyderabad is advisable because we take care of leakages or contamination related issues and weed out termites with precision and also take care of prevention of further attacks post treatment with our Termite Pest Control Services in Hyderabad.
Termite Pest Control Services in Hyderabad
Termite control is in a way to eliminate their established colonies inside wooden structures. This act requires special skills and demands employment of strategies and techniques. According to leading scientific studies anti termite treatment, it is believed that they effect the most in the months of March to May. This knowledge is a kind of clue for house owners or factories or industry owners to pull up their socks and indulge in identifying termites and if found, then elimination. This identification though requires a keen eye of termite inspector, owners or residents can also identify them. One has to track termite movements. By looking into the infected object keenly and termites' movement from inside and outside the infected object, one has identified the targeted area.But the straight away application of pesticides or insecticides is not advisable. The treatment needs attention and guidance of professional agencies like Advanced Pest Controls to help you get rid of termites. Termite control and anti termite treatment in Hyderabad rescues you by executing strategies, mechanism, and methods that give the best results. Termite Pest Control Services in Hyderabad – who are endowed with special skills – involves either usage of liquid pesticides or termite baits. Though few do it yourself kind of techniques can be tried at length by owners themselves but the results aren't convincing. Here comes the role of professional anti termite treatment agencies like Advanced Pest Controls with a Hawkeye to termite control once for all. Our termite pest control services in Hyderabad have solution for your pest problem.